(click above images to view full-size, then use Back button to return here)
About Logos Library Reporter (LLR)
LLR (Logos Library Reporter) is a free Window's program that allows you to track changes to your Logos/Verbum library. You will use the Read Catalog tab to read current Logos/Verbum Library information and store it in LLR's database (Saved Catalog DB). Logos/Verbum library information is stored in a catalog database which LLR copies from your Logos/Verbum installation. The LLR program refers to your library info as a Catalog. As your library information changes you will use LLR to get fresh copies of your catalog and store them in its database.
You need not worry about LLR disturbing your Logos/Verbum catalog database. LLR gets a copy of this database file from your Logos/Verbum installation. LLR only uses this copied file which resides in LLR's working folder. LLR has built in precautions to prevent copying your database when it detects that Logos/Verbum is running or its indexer is running. When LLR detects this state you will receive a warning window telling you that LLR could not copy the database and asks you to close Logos/Verbum and click LLR's Read DB button again.
Once you have added one or more catalogs to LLR's database you can then run Reports on those catalogs. In the Reports tab you will find that there are 2 types of reports available to be performed on your Saved Catalogs: 1) reports done on a Single catalog and 2) reports done between Two catalogs. This is detailed in the Reports area of this manual.
Since there is only 1 catalog file in your Logos/Verbum installation, then each time that Logos/Verbum updates information for your library it overwrites the old information. So when you use LLR's Read DB to get a fresh copy the catalog, that information is only relevant to the current state of your library. This is why you need to periodically get a fresh copy of the catalog and save it into LLR's database. LLR keeps track of each catalog in its database by the Date/Time that was on the catalog file that it just read. So each entry in your LLR database will have a unique Date/Time.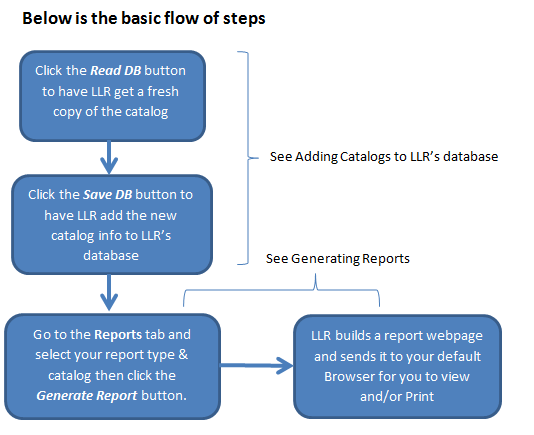 LLR User Manual PDF shown below with GoogleDocs Or you can Download the zipped PDF: LLR User Manual
Select a sample report to view below:
System Requirements
Disclaimer
You accept the program AS-IS, no warranties are implied nor granted. The Author of the program (Logos Library Reporter) in this disclaimer is referred to as the program provider. The program provider will NOT be liable for any problems or damages which may occur from installation or use of this program!

This program is in NO way affiliated with Logos Bible Software (the businesss)! They (Logos Bible Software, the business) are NOT responsible for any damages or problems which might occur from use of this program! So please don't contact them for issues regarding the use of this program. Copies of their databases are property of Logos Bible Software and you the owner of their program (Logos Bible Software). By installing/running the program, you give the program (Logos Library Reporter) rights to copy the databases and then glean information found in these copied databases for your use (the program Logos Library Reporter in NO way distributes the copies of these databases, but only uses information in these copied databases to generate reports to assist you).

By Downloading and/or Installing the program you agree to these terms and release the program provider of ALL responsibilities and liabilities for any problems that you may encounter.

[FWIW: Logos Library Reporter merely makes a copy of 2 of your database files after ensuring that you do not have Logos Bible Software running. All operations are Read-Only operations on these copied databases which will not effect your program Logos Bible Software operation.]
Download & Installing
if you have a version of LLR previous to 1.1.0.0, then you will need to uninstall that version prior to installing this newer version. Otherwise you may end up with 2 versions of LLR installed. This could cause problems since they will share the same LLR folder (Documents\Logos Lib Webpage). Use Window's Control Panel to uninstall the old version.
Don't worry, all your saved catalog info will be retained!
Current LLR version: 1.2.2.0
Your browser reports that you are running:
Depending on your browser you may be prompted to Save the file and see something similar to the image below.
So press the Save button or what ever your browser prompt shows you.



In your Browser open the Download folder or list (this is dependant on your Browser)
Then find the file your browser just downloaded ("Setup.exe")
Next double-click on the file to run it.

Next Windows may prompt you with a warning window since this program does not have an authentication certificate


(those cost $100's per year and the author cannot afford that to give away free programs)



So you may see one of the warning windows below.
Press a button or link which will permit the Setup program to proceed anyway.

For those of you who do not have Microsoft .NET 4 Framework on your PC, the setup program will install it at this time.
Next Windows will prompt you with an installation window as shown below
Press the Install button to allow Windows to install LLR. Then you will see the progress as LLR installs.

After the installation is complete, Windows will try and start LLR.
You may see one of the warning windows below:
So press a button or link which will permit LLR to run.

Now you should see LLR running on your desktop.

Uninstalling or Updating the program
This program is a Click-Once application. Such applications have security controls embedded in them which make it complicated to update the application. Windows requires that the installer come from the Exact same location as its predecessor. In such cases if you installed from a Zipped version and are installing from the new web installer, you will need to use Window's Control Panel Programs and Features to uninstall the old version of LLR prior to installing the newer version. Don't worry, none of your data will be lost when you uninstall LLR, it is kept in your Documents folder in LLR's unique folder.
After you have installed using the new web installer you should not need to use the Control Panel to uninstall LLR before updating in the future.